CapJaxMathFax is a downloadable program that reinforces math facts in a way that encourages kids to continue.
We were given a trial for our review. I had no trouble installing it on the laptop. I did read on the TOS forum about installing the license, but it would be very doable for most people, and easy for any teen who laughs at their parent's computer skills. If there is still an issue, there is great customer support available.
How does it work? Well, once you are downloaded and logged in and everything, you are taken to the main screen page.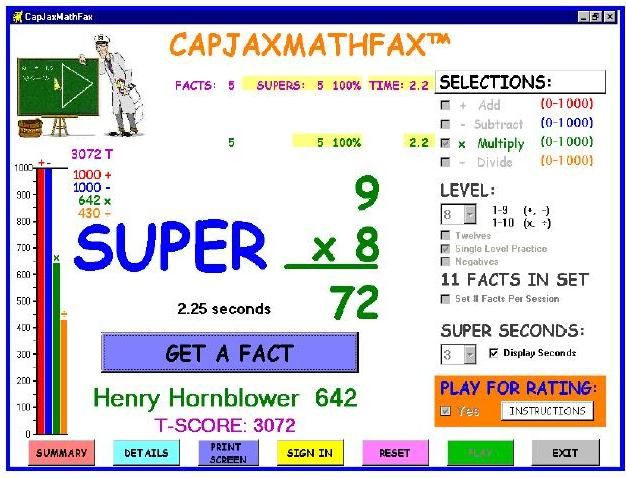 This is pretty much what it looks like the whole time. You start at the beginning with the most basic addition and subtraction problems. Its designed so that kids feel good about their mastery and want to keep going. It covers addition, subtraction, multiplication and division math facts. The math fact is that there in the middle. Kids can play for practice, play for a rating or bail. When they play for a rating, they can keep their personal score. The goal is to answer correctly and quickly. Since we installed it on the laptop, we didn't have a number pad, so it also doubled as typing practice! There are Super facts, which need to be answered in 3 seconds. Whew!
Where can I find this program? If you go
here
, you can see for yourself.
What is the cost? $29.95
Who is this geared toward? First graders through anyone who needs practice with math facts.
This is a checklist from the website
| | |
| --- | --- |
| Does the program address the full range of computation from addition to division? | |
| Does the program address computation with negative as well as positive values? | |
| Will my student clearly understand the objectives of the program? | |
| Is there positive feedback for my student to enjoy working with the program? | |
| Is feedback immediate? | |
| Does the program allow me to monitor my student's performance over time? | |
| Will the program work at my student's best pace for learning? | |
| Will my student succeed at a rate that is challenging, but not frustrating? | |
| Does the program allow time for my student to reflect on his or her work? | |
| Does the program use timing in a way that that minimizes pressure? | |
| Does the program provide printed reports of my student's success? | |
| Does the program provide graphical reports of success and progress? | |
Emma reviewed this one for us, which worked out well, as she has just finished her math curriculum and definitely needs some daily practice. She has been using it daily with no complaint, which is an amazing testimonial. She didn't like the nautical theme at first. She just didn't get it. I think she has ignored it and is just focusing on the facts. Her response time has improved. I am not expecting overnight mastery, but she is well on her way, and not fighting about it.
To see what others think of this product, go
here
*disclaimer* I was given a license to use this product in exchange for my honest review. All opinions expressed herein are my own.