Go Science videos are a series of 6 DVD's that present 67 different science demonstrations. We
were offered the choice of any two for this review. We chose Volume 5: Air Flight and Volume 6: Water, Space, Solar System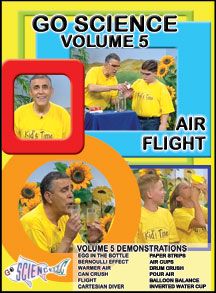 The demonstrations are hosted by Ben Roy.
Ben Roy
teaches science methods at the University of Tennessee at Chattanooga and is the former director of a science program on television. He is very high energy. He presents various experiments, which are pretty cool. Our DVDs included but were not limited to:
-boil water in a paper cup
The age range for these presentations is 6-14.
The price is
$14.95 each or $79.95 for the set of 6
To purchase for yourself, go
here
Here is our take on these dvds. They are marketed as for ages 6-14. My 4 and 5 year olds watched them. My 9 and 12 year olds were not captivated at all. They found the tone was geared toward little kids, talking in a preschool teacher voice. The experiments were cool to watch, but it was hard to sit through the dialogue. Even the older kids in the videos looked tortured to be there. In addition, the sound was not consistent from one demonstration to the next. It would go from incredibly quiet to blaringly loud. So, don't watch them back to back, or if you can't find your volume remote.
They are also Christian-based. You don't really see much of this in the demonstrations, except at the end, where Ben declares that when we learn more about science, we learn more about our creator, God. The kids complained that there was no correlation between that statement and the experiments, but it was a nice sentiment. Oh, the statement was a bit repetitive too. My irreverent kids were parroting it around the house in a less than respectful manner, but I am sure other, nicer kids would appreciate it.
The can crush and drum crush were really fascinating to watch. The egg in the bottle intrigued the little kids enough that we had to try it with leftover Easter eggs. There are no instructions or materials list included with the dvds, so we had to make it up as we went, but we are pretty used to that. It took way longer than in the dvd, but was worth it.
Here is a sample from one of the videos.
To see what other reviewers thought of this series, click
here
and click on the linky.
*disclaimer* As a reviewer with TOS, I received these videos in exchange for my honest review. All opinions expressed herein are my own.
*also, I have no idea what is going on with the text or background colors. I should ask my 12 year old!