Today was a good day. I cut Howard's hair after breakfast. Then I remembered Sarah needed a bath so I started that for her, ironed part of my skirt, got Sarah out, ironed her dress really quick, tied Anne's sash, ironed some more, buttoned Emma and hopped in the shower at 10:30am. We were out the door at 10:45. I even shaved my legs! We got to church on time and got a pew. Church was decent. I spent more time chatting than listening, my bad. Hopefully next week I will be better behaved.
Last night we invited the Ker's to have dinner with us this evening. It ended up that we brought the main dish to their house. Right after church Sara invited the Bell's too. Some of my favorite people all together! It turned out to be a pretty good spread. The kids had fun playing with each other. I had a good time.
I probably should be prepping for this week. Hopefully it will be easy. I think I will have to bring Sarah's little potty downstairs with us. She has been going potty since we returned home tonight and is even keeping it in her room. I got the idea from Jon and Kate plus 8. She has peed in it already.
I said a while ago that I was going to put a skirt on one of Sarah's shirts. Its not my best work but I figure its pretty good considering I don't know what I am doing and I did it in an hour and a half.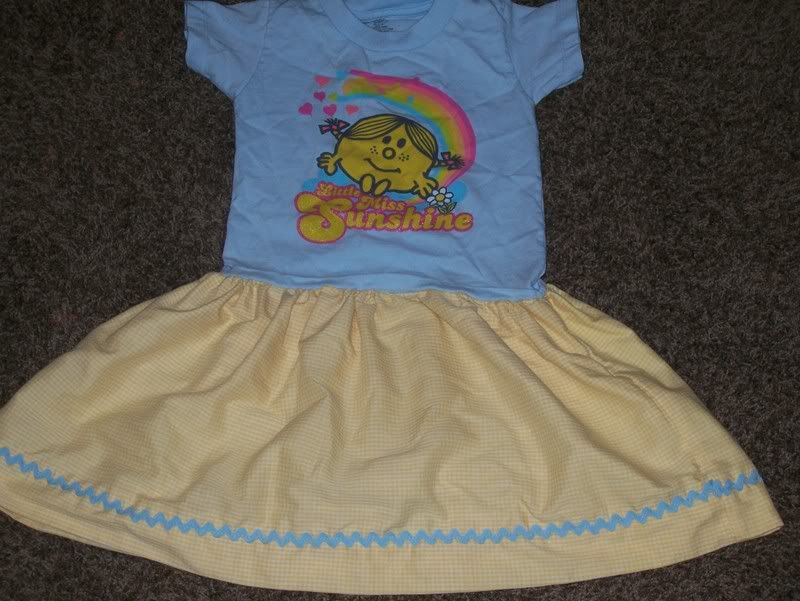 That's about it for now.