What is it?
IXL
is an online math program that rocks! It is a practice environment where each student/grade can work at their level. The levels go from preschool to Algebra, and they are working on more advanced math. As a member of The Old Schoolhouse Crew, my family was given a 6 month subscription for 3 children so we could try it out.
Here's how it works: You (or a teacher at a school, it works for both homeschool and public school) sign up your kids. You choose their grade level. You or they can pick a little avatar. They log in by choosing their avatar, and it takes them to the problems for their grade level. The problems are broken down into categories. You can mouse over them to see a sample of that kind of problem.
The kid clicks on it and begins to work. Its all in a eye-pleasing format. The problems are presented in a logical way.

See, it looks cool, and is easy to use. Emma and Sarah have mostly used this, but Annie has put in some time. When they use the program, it sends a report to me. Sweet! It tells me what category they have worked on and how many problems they got right. I like it because while I work with them for lessons, of course they get the concept. But with IXL, I can see if they are really understanding it. It reinforces what they have been working on. Plus, when they finish a category, which for them has 100 problems, they get a prize. Not a real life prize, but a picture. Sounds silly, but works. They keep track of what they have, are jealous of each other's prizes, and scheme to get one for themselves.
It has com
plete coverage. As a homeschooler in CA, it helps that "
IXL's math skills are aligned to the 2010 Common Core State Standards, the 2008 California Preschool Learning Foundations, and the 1997 California Content Standards, providing comprehensive preparation for the Standardized Testing and Reporting (STAR) program." So if I am wondering if the kids are missing anything vital from their curriculum, they can go on IXL and it will be covered.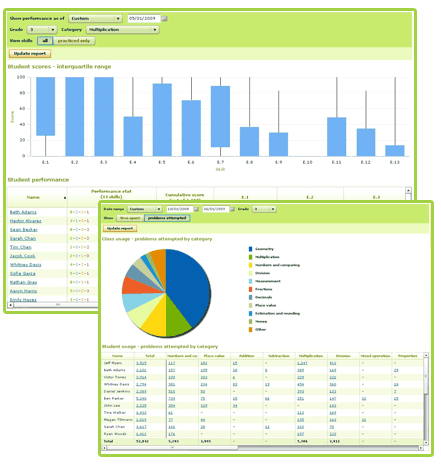 This is a lovely screenshot of a report.
Okay, here's the nitty gritty: The monthly price is $9.99. For each additional child, add $2.00. The yearly price is $79, add $20 for each additional kid. Depending on your budget, this could be a serious benefit to your school, be it home or public.
If you want to see what other people thought of this product, go
here
*disclaimer- We were given a 6 month subscription in exchange for our honest review. We received no other compensation, and any opinions expressed herein are my own or those of my children.