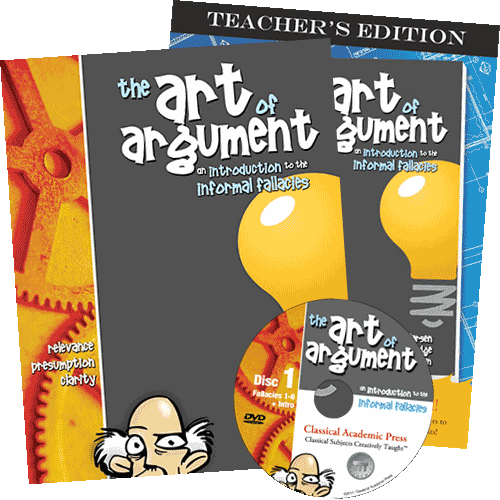 See that pretty, colorful bundle? It arrived one day for us to review, as TOS Crew members. By us, I mean me and Annie. What is it? Well, it is teaching us about arguing. Not fighting, but arguing. Why would I want to teach my 12 year old how to do this, am I crazy? Nope. Not crazy. It actually makes sense. Follow me here, people.
This is, as it says, an introduction to the informal fallacies. What are fallacies? Honestly, before we cracked open this book, I had no idea. "A logical fallacy is an occurrence of bad or incorrect reasoning." (Teacher's Edition, p 5) Yup, it says it right there, after the table of contents. The intro asks if you have ever heard an argument that didn't set right. It bugged you but you didn't know why. This book covers 28 logical fallacies that explain what is off in those arguments. Quite honestly, we are now seeing fallacies in debates, commercials, print ads and even some newscasts and editorials. Don't get me wrong, we aren't perfect or anything, just more aware.
Since this was a topic she and I knew nothing about, we have been taking it slow. Very slow. We are currently working on Ad Fontem arguments, which include Ad Hominem, Ad Hominem Abusive, Ad Hominem Circumstantial and Genetic Fallacy. Bonus that all the terms are Latin (we are also studying Latin) with definitions.
Arguing is defined as "providing rational reasons for or against an idea or action." (Teacher's Edition, p. 7) So I am not trying to get Annie to fight with me more. She will argue, its a part of those teen years. I want her to be able to make her point and take a stand while making rational points. That is my end goal.
If you would like to download a PDF sample of a student page and the table of contents, click
here.
The set we were given to review included the first disc of the DVD set. Annie said it was a good supplement, but she could go without it more often than not.
This curriculum is geared for students in grades 6-8 and that is totally reasonable. The cost for the set that I reviewed, which includes the student and teacher's editions and a DVD set is $88.95. To order individually, the student edition is $21.95, the teacher's edition is $24.95. The DVD is $54.95. If you want to see it for yourself, it is published by
Classical Academic Press
.
To find out what other reviewers thought of The Art of Argument, click
here
and enter the linky.
Disclaimer: I was given The Art of Argument free of charge in exchange for my honest review. All opinions expressed herein are my own or those of my offspring. No other compensation has been made. No animals were harmed in the writing of this post. Any similarities to persons real or imaginary are purely coincidental.