Before we left Colorado, we got a package in the mail. It was the game Tri-Cross, and we were asked to review it for
TOS
. We received both the standard game and the travel version. The standard version looks like this:
The travel version looks like this: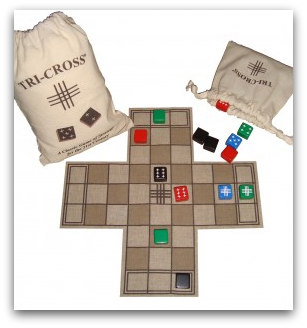 I admit that when I looked at all the pieces, I was a little overwhelmed. I can't even play chess and I always lose at checkers. I even have issues with tic-tac-toe. Strategy games are beyond me. But not so for Annie or Howard. They looked at the instructions and got busy trying to beat each other. For those who don't have a master game player on hand, there are instructions available
here
.
It was pretty fun. We had a bit of a misunderstanding at one point. Howard and Annie were playing when my mom asked what we were doing for dinner. It happens that when you have a piece in the middle of the board, you say, "In and out." There was some food confusion after that, as she heard one thing and we answered another. It was pretty funny.
We really liked the game. The travel version is also eco-friendly. It is printed on organic cotton cloth with non-toxic soy based ink. It comes in an organic cotton cloth drawstring bag. As such, it has won the Dr. Toy Best Green Product award. Cool, huh?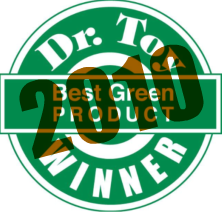 This game was created by a father and son. It is for 2-4 players, and can be played at the easy beginner level and a more advanced level. I stuck with the beginner level myself, but those more strategically inclined would want the advanced level. Children as young as 8 can play, at whatever level they are comfortable. Emma tried it once. Annie, at almost 12, did rather well and played it repeatedly.
Tri-Cross can be purchased
online
or at several retail locations. The standard version is $24.95 and the travel version is $19.95. I prefer the travel version because it takes up less space on our overflowing game shelf.
Since we are a game playing family, I feel that this game is a wonderful addition to our game collection and look forward to playing it again.
Disclaimer: I received Tri-Cross free of charge in exchange for an honest review.
All the opinions expressed herein are my own