We were asked by
TOS
to review
Big IQ kids
. What is
Big I.Q. Kids
? Let me tell you. Its an award winning online program for kids, focusing on Spelling, Geography and Math. It is geared towards K-8, although parents might enjoy testing themselves on geography and spelling and playing the games. Games? Yes, there are even fun games. Each time a child completes a lesson, they get a game coin. This coin can them be redeemed on one of the many games available. Learning and fun combined!
What we liked:
-One coin for every lesson. Emma is big on rewards, and rewards right away. I like that she gets a game coin after each lesson she completes.
She likes playing the games right away. Annie collects her coins and then has a mega playing session. Either way, they have earned the games.
-
Really fun games
-The geography section is awesome. Even though we aren't formally working on states yet, the kids can learn about them here. Emma has been able to tell me information about specific states that I didn't teach her. Annie and I recently were talking about state capitals (because we are that cool and it comes up in regular conversations) and she told me the capital of Florida right off.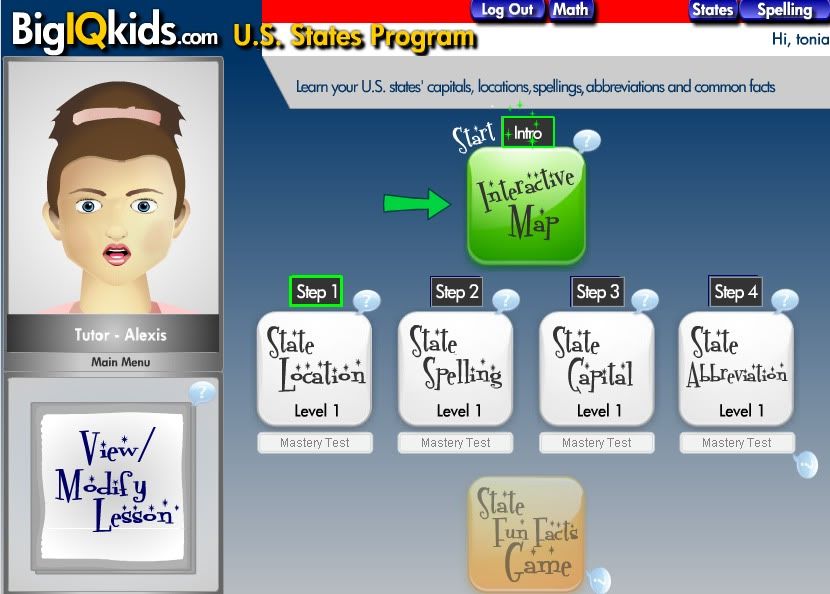 screen shot of the states program, level 1
We also liked how easy it was to use. I signed the kids up and they got right to it. Emma asks if she can do Big IQ before her other subjects every day. I guess she likes it. :) And the answer to that is no. Otherwise she will never do anything else.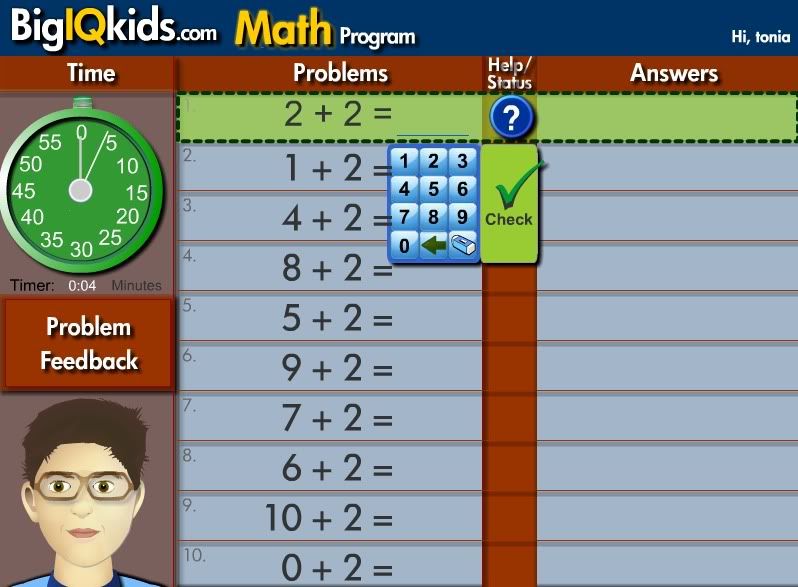 Screen shot of math facts
What we didn't like:
-The voices were more than a bit off. Imagine telling your kid, "You are becoming a very good speller" in a totally flat, monotone voice. Not really encouraging. Luckily, my kids thought it was funny.
-When you go to the World Spelling Bee and other supplements, you have to log back in to Big IQ Kids.
-Spelling has no access to the other subjects, so you have to the game page from spelling, then from the game page, go to other subjects.
-
The math isn't very challenging at all for my oldest. She is currently doing Algebra in her regular studies and so far we haven't found any math beyond multiplying and dividing on this site.
Things we learned to cope with but weren't deal breakers:
Non QWERTY keyboard on the screen that you use with the mouse. You can use your own keyboard though, don't have to use the ABC keyboard on the screen.
The math is a little confusing. For Emma, she was puzzled by how they wanted her to carry numbers.
The kids can go in and change the number of problems.
Since we are using this as a supplement, it isn't really an issue.
What is offered?
There are several free sections available. Math facts, spelling, vocabulary, long and short vowels and the states program are free. There are premium packages available for Spelling Jr, Interactive US States, and Interactive Math Facts. The advantages of the premium packages are the ability to monitor the student's progress and only allow them to advance once they have mastered their current level. If you want to see a side by side comparison of free vs. premium for math, go
here
.
Pricing:
Premium Math: $9.99/1 month, $49.99/year. Spelling Jr. is $7.99/1 month, $39.99/year. The States program isn't available monthly, but for 1 year its $39.99.
See the groovy avatars on the math and states pages up there? Those are Big IQ buddies. Kids can design them to represent themselves. When they go on the Spelling Bee page, they are represented by their cool Buddy. If you have a free account and decide to upgrade, there is a coupon to get all games and a Buddy for $9.98/year. The games are all pretty fun and yes, I have played them myself. Annie has stockpiled her game coins and is nice enough to let me use them sometimes.
Our overall conclusion: Big IQ kids is fun. It has some kinks to work out, like the voices, but that won't stop us from using it. We like it and will keep using it, and will recommend it to others.
Disclaimer: I received Big IQ kids free of charge in exchange for an honest review.
All the opinions expressed herein are my own.