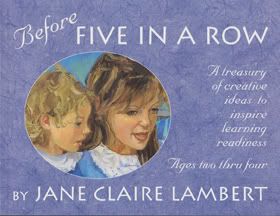 I was so excited to receive Before Five in a Row to review for
TOS
. Last year I used
Five in a Row
with Sarah for her Prek2 year. It was a little too advanced for Laura, who was 2 at the time. Before Five in a Row is just what Laura needs to "do her school." Before Five in a Row is specially designed for ages 2-4.
So what is this Before Five in a Row and how does it work? Its pretty easy concept. You read a book with your child for 5 days in a row. Before Five In Row has "little lessons" to do with your child about the story. It is not intended to be an intense teaching/learning experience. The intro to the book states, "The point is not so much to instruct or teach as it is to have a happy introduction to book, provide an interesting, light introduction to many different topics and to build intimacy between the reader and the child." (BFIAR p. 3)
The first part of the book has the lessons. The second has creative ideas for working and playing with your child. There are ideas for pretty much everything, from crab-walking for large motor skills to modeling clay and threading for small motor skills. There are activities for reading readiness, visual arts, performing arts, and even poetry.
The little lessons are about varied subjects, such as Bible, language arts, zoology, classification, history. Lest you think this is way overwhelming for kids of this age, let me reassure you, it is at their level.
For instance, math is presented in a way easy to understand. While reading Blueberries for Sal, we used Fritos instead of blueberries and plastic cups instead of little tin pails, as we were in a hotel when we began that story. Sarah joined in on this one. She and Laura picked their fritos just like Sal. First three, then ate them, then four, then ate them. etc. While reading Goodnight Moon we started some zoology and identified all the animals in the story and made cards for them. For some, we drew pictures. Laura's drawing of bears sitting in chairs was awesome. I am planning on making cards for all the animals in the books we read. Then she can sort them in oh so many ways: how many legs, what they eat, land and sea creatures, etc.
We have read several of the books on the list already. I am looking forward to incorporating many of the ideas when we decide to "row" them. On our personal to-do list: Corduroy, Katie No-pocket, The Snowy Day, Caps for Sale and The Carrot Seed.
The only downside is that some of the books may not be available at your local library. Most are easy to find, though, either at a library, or to purchase from various online booksellers. Five in a Row itself is available from
Rainbow Resource
(recommended by Five in a Row) for $35.00.
I loved Before Five in a Row. I think it is a wonderful resource for parents of preschool-age children.
Disclaimer: I received Before Five in a Row free of charge in exchange for an honest review.
All the opinions expressed herein are my own.