Not so good today. Annie had two F papers and one D paper. She knows she needs to work on her math for AmeriTowne but today she was darn sloppy! Her sugar cube castle is looking good so far though and she had a blast with her catapult. Next week will be review, review, review. In her history test today she wrote that the portcullis was the castle bathroom?? Perhaps there were just too many new terms in one week. We need to get this down before moving on to Knights and Samurai.
Emma on the other hand did great. She learned a new song about when two vowels get together they play a game and the first one says its name. It opened up a whole new realm of words for her. I didn't push her much as I know she really needs to get this down. She also was learning how to spell the numbers zero through nine. Somehow we ended up playing a wheel of fortune type game and it was fun. She also made a food cycle out of paper plates that is now hanging up. She did her first Venn diagram using animals that eat plants, animals that eat meat and animals that eat both. It was great because she was able to read "eagle" and she understood the concept of the diagram.
Its kind of odd how the two of them have switched places. But I am willing to work with it. February will be here soon and I have been warned that it is the hardest home school month with boredom, burnout and cabin fever. Not looking forward to that but at least I know its coming.
All in all it was a pretty good day. We went to Loving Hands today and it did take up a portion of our day. I put Laura on my back like Yoda, funny, huh?. I didn't have to worry about her crying in the childcare area this way, plus I just like having her near me.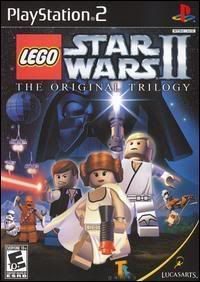 And for the Nelson boys: We traded in our Lego Star Wars II for the first one. So far it is pretty fun to watch. I have to play when no kids or Howard are around or else they will start yelling at the screen. :)