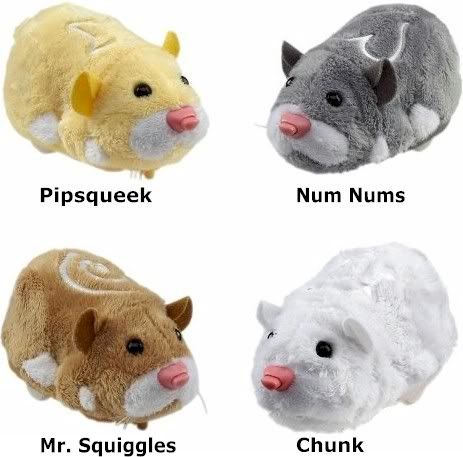 If you are the parent of a young girl, you will know what Zhu Zhu pets are. They are
the
toy this season. Nearly impossible to find and marked way up on ebay and Amazon.
Annie and Emma have been trying to find these since October, at least. They have had money saved and set aside. Each time they go to a store, they track down a stock clerk and ask when they will be in stock.
Today we went to Target to get boring house stuff, soap, paper cups, etc. Annie brought her money in case she saw a Webkinz Koala. Alas, they were not in stock. However, the heavens parted and the angels sang and a light shone down on three Zhu Zhu pets, right there in the toy aisle.
Of course we picked up all three. Now Annie, Emma and Sarah are in love. They have yet to open them, as they have committed to finishing their school work first, and Sarah napping first.
Oh the fun they will have in just a few hours.